Mercedes-AMG GT R Roadster-extreme convertible
Three years after the debut of the Mercedes-AMG GT R Coupe manufacturer's offer from Affalterbach complements the expected version of the Roadster. There are only 750 copies of the car with a folding, material, roof.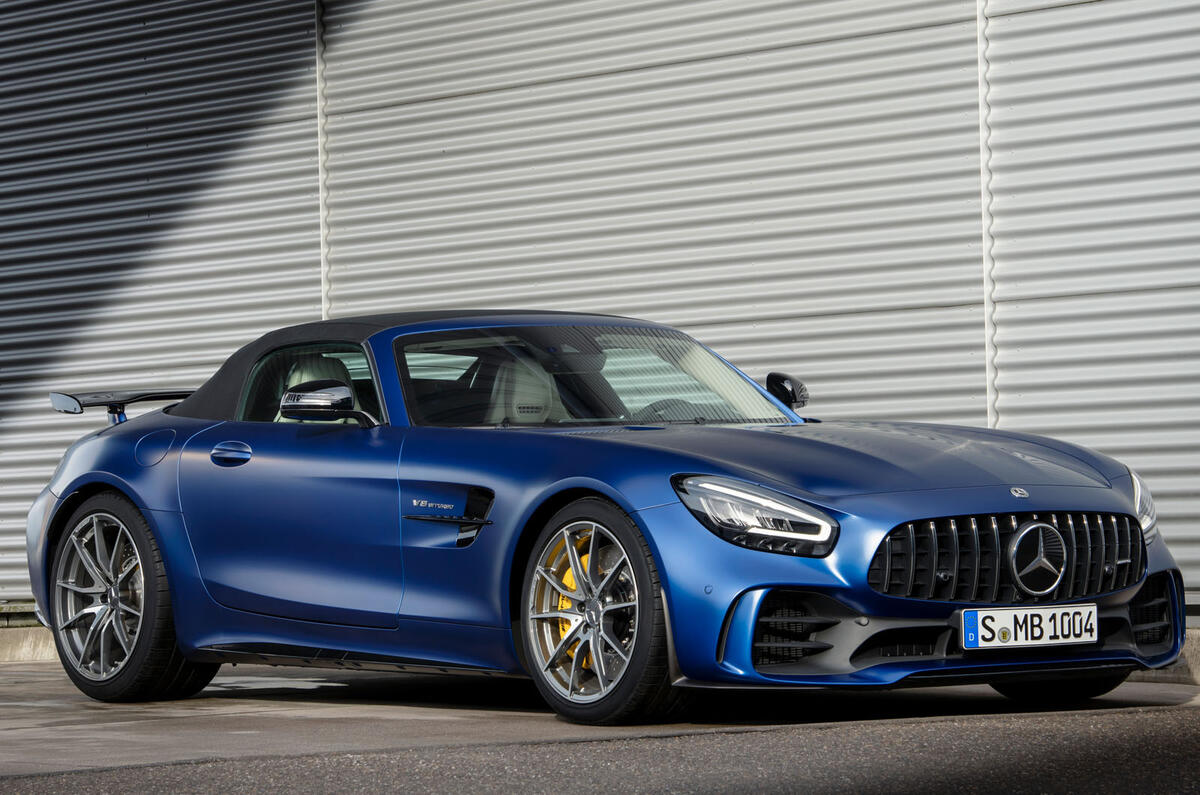 The car can boast of active aerodynamics. In addition to the rear spoiler, it includes, for example, changing the airflow under the car, mounted in the chassis, adjustable air intakes made of carbon fiber. At higher speeds can leave up to 40 mm-their tasks is to create the so-called Venturi effect. As a result, at 250 km/h, the element is able to generate 40 kg of downforce on the front axle. Active air intakes direct additional air jets to the brake discs and double rear axle diffuser. The standard also includes an active Airpanel system (blinds in the corners of the front bumper), which optimizes the air flow under the hood.
The new Mercedes is moving on forged wheels made of light alloys. The front has a diameter of 19 (275/35), the rear – 20 inches (325/30).
The roof is made of three-layer fabric with special acoustic mats, which have the task of reducing air noise. The skeleton is constructed of magnesium, steel and aluminum, allowing for the maintenance of a low center of gravity. In General, customers have a choice of 14 body colors. In the list of options you can find as many as two packages of carbon fiber. To reduce the weight used, for example, end silencer made of titanium alloys or trunk lid made of carbon fiber reinforced composites.
Just as in the Mercedes-AMG GT R Coupe, the source of the Roadster drive is a dual supercharged V8 4.0 l,. The unit generates 585 KM (6250 rpm)./ min) and reaches 700 Nm (2100-5500 vol./ min.) Power is transmitted to the rear wheels via an electronically controlled, active differential. The seven-stage double-circuit gearbox is optimized for the best acceleration. The standard includes an active suspension with AMG RIDE CONTROL system and a torsional rear axle.
Mercedes-AMG GT-R Roadster accelerates to 100 km/h in 3.6 s and reaches a top speed of 317 km/h. It's only 0.1 seconds and less than 2 km/h slower than the version with a closed roof!
Published On : 2 hours ago on March 4, 2019
Author By : James
Last Updated : March 4, 2019 @ 12:31 pm
In The Categories Of : Sport
About the author